How to do Righteous Troll build in Path of Exile 2.5.x Patch
I was showing the leveling process, later in the video you can see me using Kaom's heart at 7k life. While killing bosses my dps isn't that great, but i had fun leveling this and clearing monsters is not a problem. Scorching ray works surprisingly well and because i have good amount of Strength - iron will does give some Damage. Also scorching ray gets Damage boost from Righteous Fire. It is not meant to be killing with scorching ray alone. Don't forget that scorching ray reduces enemy resistances up to -24% even in Hexproof maps, so Righteous Fire does decent damage.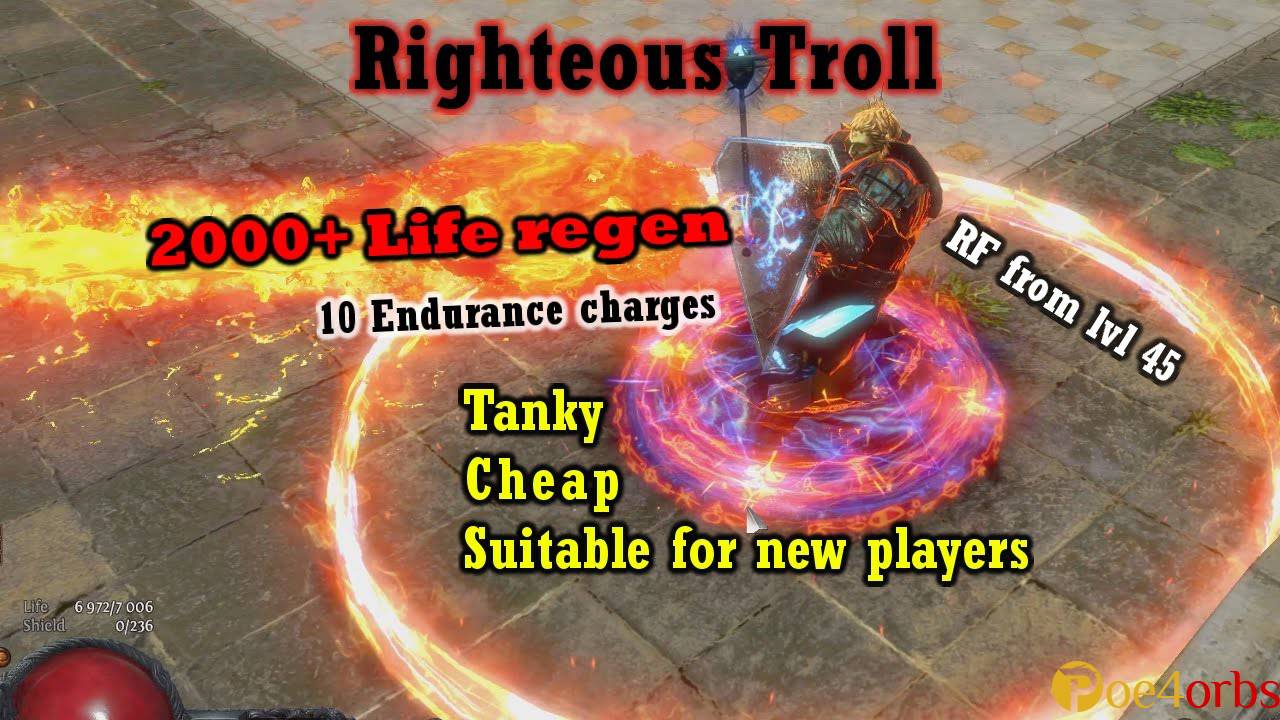 But in mid-high tier maps i can run through monsters without stopping and Righteous Fire kills them. So i cannot agree that Righteous Fire is bad for Damage.
But if you don't use Kaom's you can use 5link armor and increase Scorching Ray damage. I bought Kaom's for 55c. All other items are 1-3c. That is budget in my opinion. Btw, you can use armor/Energy shield armor to increase your damage. Even if you wont scale Energy shield, but it still increases your Righteous Fire damage.
Kaom's heart is an item you can work on once you start playing this build and if you enjoy it. That is what i like about it. You don't need expensive items to try out build but you can improve it if you like it.
Of course you can pick any other budget build, but this IS viable budget build. It all depends on what you like playing, your play style. I do not argue about dps of this build. There are many other super cheap builds that can have a lot more dps. Like i said, it is all about what you like and not meant to be the most effective + cheapest build.
It is a lot better than it sounds but it takes special taste to like Righteous Fire builds in general. I like the idea of doing damage while not doing any actions lol. Same for summoners.
Well Emberwake would not work with Righteous Fire or Scorching ray, because those are considered Burning not Ignites and Emberwake needs spells to hit and cause ignite. Yeah you definitely can use Immortal call, but it is not really useful because this build is very tanky against Physical damage (10endurance charges each give 4% physical damage reduction, so that is +40% physical damage reduction), on top of that Endurance charges give damage for this build and reduced elemental damage taken while at max endurance charges (because of Juggernaut). I was using Vaal immortal call because it prevents you from dying, and it last around 7 seconds.
I wish Emberwake would work with scorching ray or Righteous Fire, that would be fun way to build.
By the way, Juggernaut used to have 100% chance to gain max endurance charges but after it got nerfed it is now gamble, sometimes it takes 4-5 casts of enduring cry to get max charges and before you get max, it is way less tanky.
Sorry that you only care about dps and missing the fun in the game. You havent played it, you dont know, did -12 res and my hp wasnt dropping. Had 13 stacks of corrupting blood - my hp did not drop. Of course if you combine multiple dangerous mods it will be risky, just like for any other build. Dps is fine up to highest tier maps.
This is Righteous Fire build. Why compare it to completely different build? Why do you take such a position? What are you trying to prove? If you have questions or arguments regarding this build, i will gladly answer. If you think i cant run nearly all map mods - tell me what do you think i can't handle and i will comment on that, but don't compare it to completely different build and say that this Righteous Fire build is bad cause your slayer can do better.
But that is from Chieftain. That would also be nice but chieftain don't have +1 endurance charge, so his math wasn't correct anyway. Chieftain with 9 endurances would have 13.5% regen not 15%. While chieftain would have more regen and probably a bit more damage, but he wouldn't be as tanky against physical damage.